Tim Kaiser + Peter Fetterman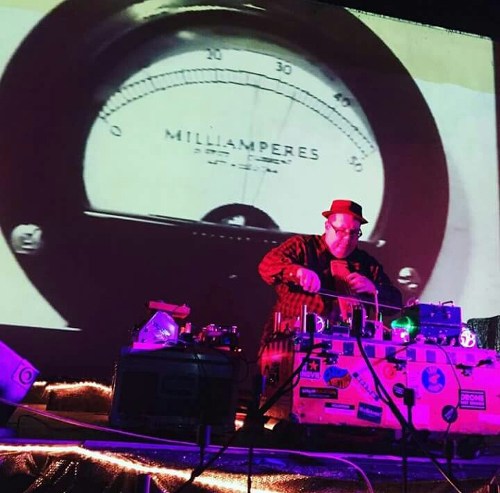 Photo Credit
Molly Kaplan
Saturday Nov. 4th, minicine? is honored to host Tim Kaiser, Minneapolis, MN, to Shreveport for a live performance. Peter Fetterman will open and on the walls: "almost was, used to be, could have been…".

"Tim Kaiser is well known in the atmospheric experimental music scene for his blending of acousto-electric contraptions and Frankenstein electronics to create ethereal, layered drones. His sonic landscapes have been called "experiments in adventurous art" and "eclectic genius" by the likes of Make Magazine, Wired, the New Art Examiner and the Associated Press. Mr. Kaiser was featured on the PBS program MakeTV and has headlined numerous experimental music festivals in the US."

"Minnesota's raison d'être for musical exploration and all-around tinkering with instruments, Tim Kaiser commands his creations with simple sweeps of his hands, willing sounds into existence. He has scored films, been featured on PBS as well as in magazines, and has toured extensively. How he gets by airport security with his devices is anyone's guess, but his hand-built instruments are as alluring as the sounds they make. Kaiser has been a founding contributor and champion of the Weirdo Industrial Complex for more than 30 years."

http://tim-kaiser.org/

Peter Fetterman, Shreveport, LA, is an intrepid sound explorer and magician. Often constructing his own instruments from discarded everyday objects he has delved unlikely sources to discover and extract new sound possibilities. A prolific collaborator, Mr. Fetterman has performed as percussionist, electronic manipulator or thrower of flame.

Additional to Tim Kaiser original creations used in this performance, several of his hand-crafted instruments will be on exhibit. Also on the walls at this performance please join us for the exhibit closing of "almost was, used to be, could have been…" curated by Omen Art members, Chrissy Cousins and Carrie Jones.

Edibles by GoGreenly. Doors Open at 7pm. Suggested Donation $5.