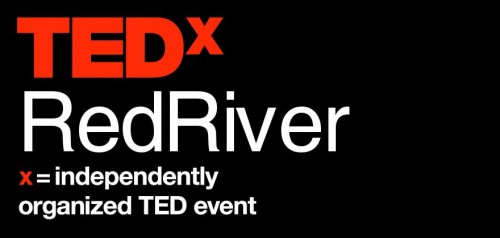 TEDxRedRiver, an independently organized TED event, will host speakers discussing the topic of "Exploratory Arts" at 6:00 PM on May 22nd at minicine? (846 Texas Ave, Shreveport). The speakers—Shreveport-Bossier artists—will present their world-changing ideas during brief talks. Speakers include:
Andrew Parsons is a culinary artist who feels most fulfilled in collaboration with his clients. As a chef, Andrew utilizes fresh, wholesome, as-local-as-possible ingredients to create gastronomic experiences. Parsons began his culinary career at Jay Rigby's in Bradenton, FL, went on to cater farm parties in Denver, NC and he now owns Lagniappe Foods in Shreveport. His culinary experience comes full circle in the construction of highly-functional, memorable and exciting kitchens.
Pete Fetterman is a fire-breathing performance artist and musician. Fetterman has performed at the McNeil Street Pumping Station New Music Festival in 2009 and 2011. He has been involved in multiple collaborative music projects including Sound Medicine Research, Drum Militia and Mosquitosophagus. Fetterman often creates with found objects or handmade instruments in the exploration of sound. He will perform an original composition.
Kathryn Usher creates artwork influenced by popular culture, voodoo and politics. Her works incorporate digital media, fiber/textile, recycled/found objects and traditional materials. In 2010, she was recognized by UK art scholar Dr. Melissa Westbrook as one of the artists in the Neo-Outsider art movement. Usher is in the process of turning her frontyard into a folk art environment.
Dacoda Montana is a musician and artist based in Shreveport, LA. His performance-based, down-tuned, avant-distortion group John Calvin is an experiential multi-media methodology investigating the transformative nature of analog technologies. He has toured nationally performing and exhibiting his experimental films and melancholic "dirge-concrete" compositions. He believes in the importance of place.
Light refreshments will be served and a cash bar will be available.
.
About TEDxRedRiver
In the spirit of "ideas worth spreading," TED has created TEDx. TEDx is a program of local, self-organized events that bring people together to share a TED-like experience. Our event is called TEDxRedRiver, where x = independently organized TED event. At TEDxRedRiver, TEDTalks video and live speakers will combine to spark deep discussion and connection in a small group. The TED Conference provides general guidance for the TEDx program, but individual TEDx events, including ours, are self-organized. Previous TEDxRedRiver events included this talk by Brandon Oldenburg of Moonbot Studios: http://youtu.be/Vf2pwftl3GYFor more information about TEDxRedRiver, visit: facebook.com/TEDxRedRiverAbout TED
TED is a nonprofit organization devoted to Ideas Worth Spreading. Started as a four-day conference in California 25 years ago, TED has grown to support those world-changing ideas with multiple initiatives. The annual TED Conference invites the world's leading thinkers and doers to speak for 18 minutes. Their talks are then made available, free, at TED.com. TED speakers have included Bill Gates, Al Gore, Jane Goodall, Elizabeth Gilbert, Sir Richard Branson, Nandan Nilekani, Philippe Starck, Ngozi Okonjo-Iweala, Isabel Allende and UK Prime Minister Gordon Brown. The annual TED Conference takes place in Long Beach, California, with simulcast in Palm Springs; TEDGlobal is held each year in Edinburgh, UK. TED's media initiatives include TED.com, where new TEDTalks are posted daily, and the Open Translation Project, which provides subtitles and interactive transcripts as well as the ability for any TEDTalk to be translated by volunteers worldwide. TED has established the annual TED Prize, where exceptional individuals with a wish to change the world are given the opportunity to put their wishes into action; TEDx, which offers individuals or groups a way to organize local, independent TED-like events around the world; and the TEDFellows program, helping world-changing innovators from around the globe to become part of the TED community and, with its help, amplify the impact of their remarkable projects and activities.
Follow TED on Twitter at twitter.com/TEDTalks, and on Facebook at facebook.com/TED.
For information about TED's upcoming conferences, visit http://www.ted.com/registration
Tuesday MAY 22  /  846 Texas Avenue  /  6pm  /  FREE!