The Super Super 8 Film Festival Hits The Road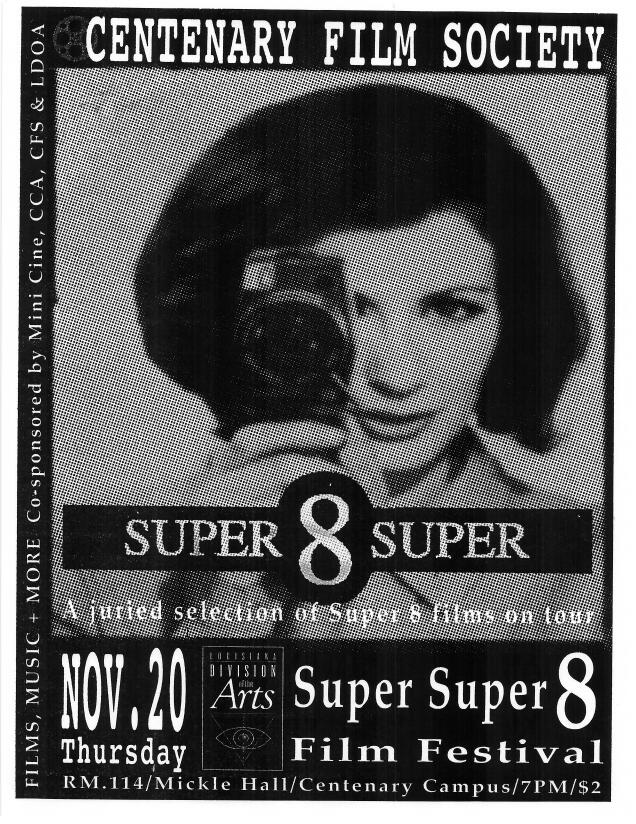 About this screening...
The Centenary Film Society and Mini-Cine present the Super Super 8 Film Festival, a fifteen city tour stopping here in Shreveport.  This event will feature fourteen or more short Super 8 films selected from over 120 entries submitted for competition.  Melinda Stone, Kate and the Bingo Lady will be in town from San Diego to personally present this work.  Be ready for door prizes, games, and more... Silent films will have live musical accompaniment provided by Shreveport musician, Alan Dyson.  So come and vote, tabulation is by scientific methods, additional awards can be awarded to favorite filmmaker...
For further information contact: Mini-Cine @ (318) 424-6399...
This special program of the Centenary Film Society and Mini-Cine is supported by a grant from the Louisiana State Arts Council through the Louisiana Division of the Arts and the National Endowment for the Arts.
The following is a list of the juried selections that will be featured in the traveling show.
Over 120 films were entered in this year's fest and the following were chosen:
Magazine Mouth - Anne Charlotte Robertson - Framingham, MA - Judges Choice
Haunt - Lisa McElroy - San Francisco, CA
Lactose Intolerant - Audrey Chung - Salinas, CA - Judges Choice
What's On? - Martha Colburn - Baltimore, MD - Judged Choice
Free Willy 3 - Matt Hulse - Brighton, Sussex, England - Judges Choice
Boobs in Toyland - Jeff Rapport - Island Park, NY
Queen for a Day - Kris DeFrost &Elisabeth Sykes - Austin, TX
Phantamagoria of Progress - Tammy Maloney - Ft. Lauderdale, FL
Anodyne - Dave Vamos - Los Angeles, CA
Le Pont - Charlie Rojo - Paris, France - Judges Choice
Two Minute Warning - Norwood Cheek - Tujunga, CA
Mr. & Mrs. F. Come Home - Luke Savisky - Austin, TX
Secret Shame: Spanking The Wookie - Todd Cobb & Pati Shampton - Austin, TX
Skippy - R. F. Godot - Winnipeg, Canada