South Louisiana Filmmaker Pat Mire Visits Shreveport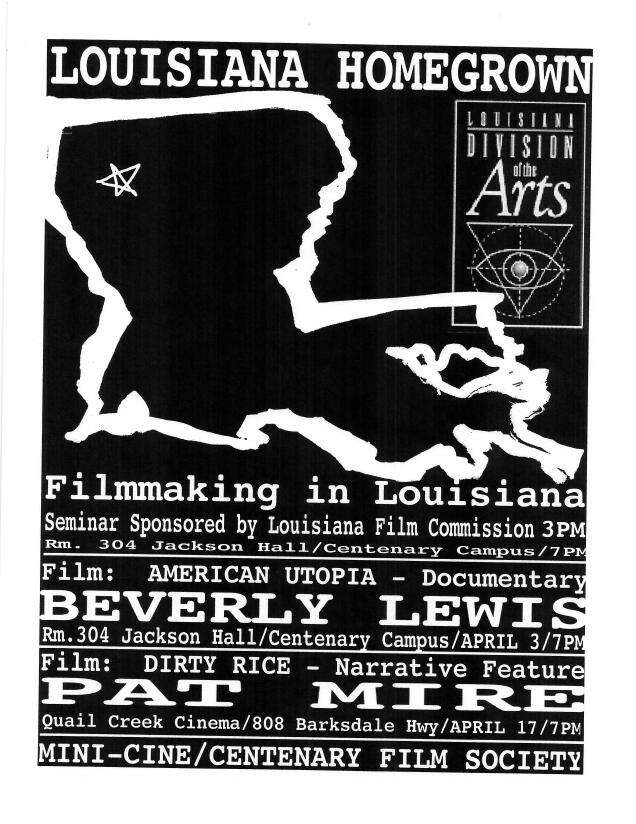 On Thursday, April 16 the Centenary Film Society will host the North Louisiana premiere of award-winning Louisiana filmmaker Pat Mire's feature Dirty Rice.  The film will be shown at 7:15 pm at Quail Creek Cinema and Mr. Mire will introduce the film and answer questions afterwards.  Admission is free for Film Society pass holders and regular Quail Creek prices for others.
Dirty Rice stars Ben Mouton (A Time to Kill) as a New Orleans-based architect who comes home to Cajun country to try and save the family rice farm with the help of his Cajun girlfriend played by French-Canadian Myriam Cyr (I shot Andy Warhol).
Filmed near Eunice, Mire's hometown, Dirty Rice is an authentic Louisiana drama filled with gorgeous shots of bayou country and a rousing soundtrack of Cajun blues, zydeco featuring the legendary Gerry McGee, Dewey Balfa, Steve Riley and the Mamou Playboys, and Wayne Toups and ZydeCajun.Pat Mire has made six documentaries about South Louisiana, winning awards from the American Anthropological Association and the Louisiana Endowment for the Humanities.  His work has been shown on PBS, the Discovery Channel, and TNN.