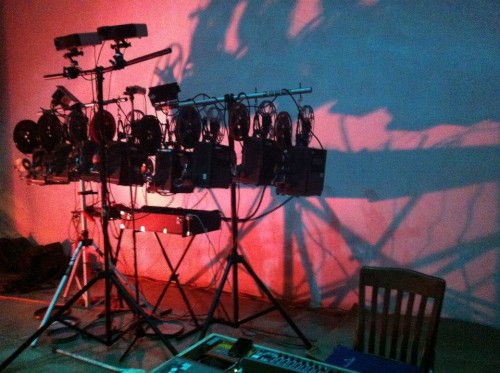 minicine? welcomes all to behold the one and only Projexorcism!! This is a live film performance exploring the physical and metaphysical aspects of film in a manner, gloriously, unconventional. See it LIVE!! Multiple 16mm analog projectors dangling like fruit from a cinecontortic apple tree! We are tapping all electrical circuits available for this one!! Edibles through the evening provided by gogreenly!
Bookending Projexorcism and opening the evening will be Tchai, an improv, instrumental quartet that uses djembes, guitar and bass. Ambient sounds lead to progressive jazz and neo-psychedelic fugues. Shamanistic chants and audience participation should get everyone in the mood. Tchai is Robert Trudeau, Ron Hardy, Tracy Chappell and Greg Andrews, with special guest, Trevarri Huff-Boone.
And on the other end of the shelf, closing our evening, John Calvin will unite the room with its ground vibrating, down-tuned, avant-distortion explorations. Ratcheting the lens of cryogenically sustained analog technologies onto the death-knell gasp of an industrial society and resultant dystopian landscape where the value of life has sunk to a possible all time low, John Calvin's performance will hope to strike a nerve in our deepest, most universal humanity in order to wake us up!!
March 22, 2012
minicine? swampland
846 Texas Avenue
$5 Suggested Donation