One Million Years is Three Seconds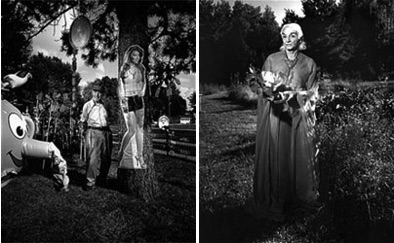 minicine? and the Centernary Art Department co-host photographers John Shimon and Julie Lindemann of Manitowoc, Wisconsin to screen their new 16mm documentary, One Million Years is Three Seconds. Focusing on four obscure Wisconsin artists over the age of 77, this film explores creativity, isolation, the physical manifestations of aging, the abstraction of time and the human need to pass on knowledge.
John Shimon and Julie Lindemann are Rea Fox Visiting Professors at Centenary College for the Spring 2003. The Centenary Art Department will open an exhibit of their photographic work at the Turner Art Center Febuary 22 from 6-8PM including a gallery talk by the guest photographers at 7PM.
About the exhibit: One Million Years is Three Seconds – With traditional processes and equipment, Shimon and Lindemann show how people negotiate the space immediately around them. They become storytellers not only of their often socially marginal sitter's lives, but also of portraiture and photography itself. Their portraits are regularly featured in the New York Times Magazine.
You may view and read about their work at: www.shimonlindemann.com.
….and on the walls, Straight Outta Potchcaw – Artwork by Leland!
minicine? / Saturday MARCH 15 / 824 Texas Avenue / 9PM / FREE