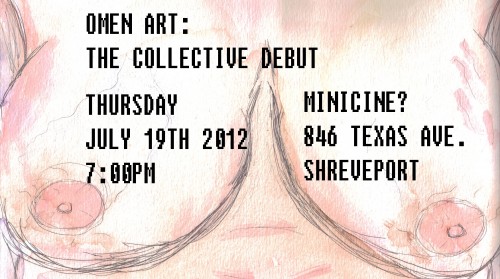 A recently formed women's art collective, OMEN ART, is preparing to present their inaugural exhibition, focusing on heart of young-womanhood and the female body-image. The event will take place at minicine? 846 Texas Avenue at 7p.m. and will include visual art, performances and installations. This unique collaborative event will serve as an introduction to the women of OMEN ART, who have been meeting and sharing ideas on a regular basis since April of this year.  The collective exists to support local women in their journey to work creatively alongside the community and serves as a platform for exchanging ideas and encouragement throughout the creative process.
The following artists will be presenting work at the show:
KELLY BERESKO, VISUAL/ INSTALLATION ARTIST
MALLORI BRANDON, VISUAL & PRINT ARTIST
SOPHIE BRIDEL, INSTALLATION ARTIST
LIZZIE DREXLER, VISUAL/VIDEO ARTIST
HANNAH HILMAN, VISUAL ARTIST
LESLI HILMAN, INSTALLATION ARTIST
CAMILLE GLADNEY, INSTALLATION/PERFORMANCE ARTIST
LIZ JACKSON, VISUAL/VIDEO ARTIST
CARRIE JONES, VISUAL ARTIST
CHRISTY KIRKLEY, INSTALLATION ARTIST
BRITTNEY MADDOX, INSTALLATION/PERFORMANCE ARTIST
KELSEY MCCLURE, VISUAL ARTIST
RACHEL MCDONALD, VISUAL ARTIST
DANIELLE MILLER, VISUAL ARTIST
AMY LYNN TREME, INSTALLATION/PERFORMANCE ARTIST
RAIVEN WILLIAMS, INSTALLATION/PERFORMANCE ARTIST
CHRISSY WISE, VISUAL/PERFORMANCE ARTIST
ERIN ZERBE, VIDEO ARTIST
ALLISON WEST, VISUAL ARTIST
Contact Info:
OMEN ART Presents: The Collective Debut
July 19th, 7PM at minicine? 846 Texas Avenue, Shreveport LA 71101
A suggested donation of $5.00 is greatly welcomed at the door, but no one will be turned away for lack of funds.
For more info, please e-mail:  omenfart@gmail.com