MSPS NMF 2009: Sound & Space Experiments w/ Phantom Orchard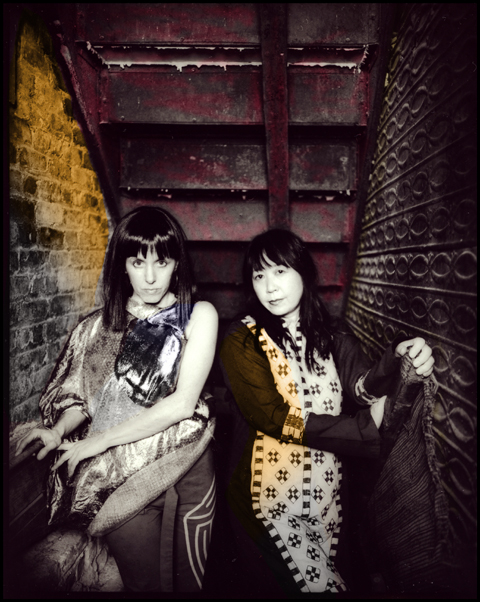 minicine? host Phantom Orchard / Sound & Space Experiments as an exploration of found sounds, electronic manipulations and classical instruments within the voluminous and diverse spaces of the Shreveport Waterworks Museumin the McNeill Street Pumping Station. Doors will open to soundscapes throughout the facility generated by local sound and noise artists, Generic Air, Jon Mackey, Ian Quiet and a site specific installation by The Occidentalists. The evening will culminate with a special performance by the avant garde New York City downtown sound artists, Phantom Orchard.
The Sound:
Phantom Orchard brings together Zeena Parkins' inventive use of the acoustic harp with unusual playing techniques, preparations, and layers of digital and analog processing, and Ikue Mori's innovative and expressive spatial infusions through manipulations of the laptop computer. Lynchpins of bands as diverse as DNA, Skeleton Crew, Electric Masada, Hemophiliac and Bjork, their duo project, Phantom Orchard, is the perfect outlet for their unique and personal musical languages.
Generic Air is percussionist, Peter Fetterman, and violinist, Destiny Toro, who combine stringed and percussion instruments with the guts of a piano to create a unique blend of melodies and experimental sounds.
Jon Mackey is a laptop computer explorer whose latest work uses time-stretched Baptist Hymns as a sound source, and is a meditation on violence and beauty.
Ian Quiet has experimented with techno-industrial to electroclash to eclectic electric and now ventures into space music and industrial percussion. Quiet explores his musical taste with whimsical lyrics, stock beats and dreamy synthesizers.
The Occidentalists are Jordan West and Allison Dickson West, manifest as the installation.  Remember when we were birds', an environment of pre-recorded and created sounds accompanied by visuals of blankets, paint and comfort.
The Space:
The McNeill Street Pumping Station, founded in 1887, was Shreveport's first municipal waterworks and was established with the construction of a building on the banks of Cross Bayou to house steam-driven pumps. Portions of the original building and pump installation, together with major additions throughout the next 40 years, served as the heart for the city's water system until 1980. Through a combination of circumstances, as the facility was updated, older technology was kept in place and supplemented with new. As a result, the facility is a virtual time capsule of waterworks technology and one of only a few such examples in the country. More info!
The Lagniappe:
World Famous Lagniappe Catering will provide Hors d'Oeuvres, inspired by the music of each performing group, throughout the McNeill Street Pumping Station.  Learn more here…
SATURDAY April 25
McNeill Street Pumping Station
142 N. Common Street
8PM / $10 Donation