minicine? Dance Fundraiser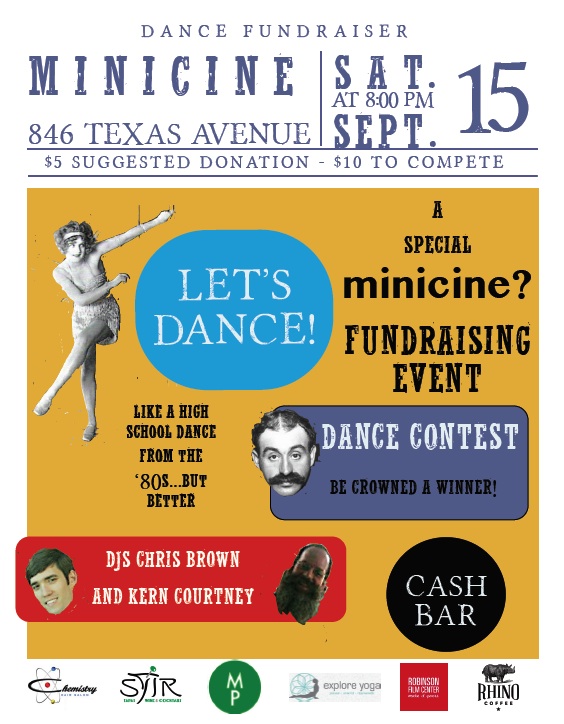 Let's Dance!  It's the 1st ever minicine? Dance Fundraiser!   $5 suggested donation (or whatever you wish to donate because this is a fundraiser after all)….   $10 to compete in the Dance Contest,  yes, you read it here, Dance Contest!
For those feeling the need to prove their dancing prowess – enter the Dance Contest. You could be crowned the King or Queen of the well-polished minicine? dance floor. No one's ever done it before!
Super Awesome prizes will be awarded,  donated by generous sponsors: Chemistry Hair Salon,  Stir Tapas, Marilynn's Place, Explore Yoga, The Robinson Film Center, GoGreenly, Rhino Coffee, Club Chicago, and Shreveport Hoop Group.
Maybe you're thinking, "Gee whiz, y'all, I'm the worst dancer on the planet!" But, hey, we have something for you, too! We would be happy to award you with the Worst Dancer title.
Golly, it sounds so exciting! But wait, there's more!
* Dress to impress and you could be deemed "Best Dressed" and win a prize that will ensure that you always look your best. After all, minicine? wouldn't want our best dressed winner walking around town looking frumpy, now would would we!
* Remember all those awkward high school dance photo booths from the '80s or from the '80s movies you watched last year because that's cool? Well, we wouldn't want you to forget this night!
* What kind of sweet tunes are we gonna have, you ask? Only the best dance hits from our favorite DJs Chris Brown and Kern Courtney!
Come one, come all. This is going be like a high school dance from the '80s. BUT BETTER!
And don't forget your dollar bills! This is a fundraiser after all and you guys love minicine?!
minicine?  /  846 Texas Avenue  /  8 pm  /  $5 Suggested Donation…