Martha Colburn & James Schneider (in person)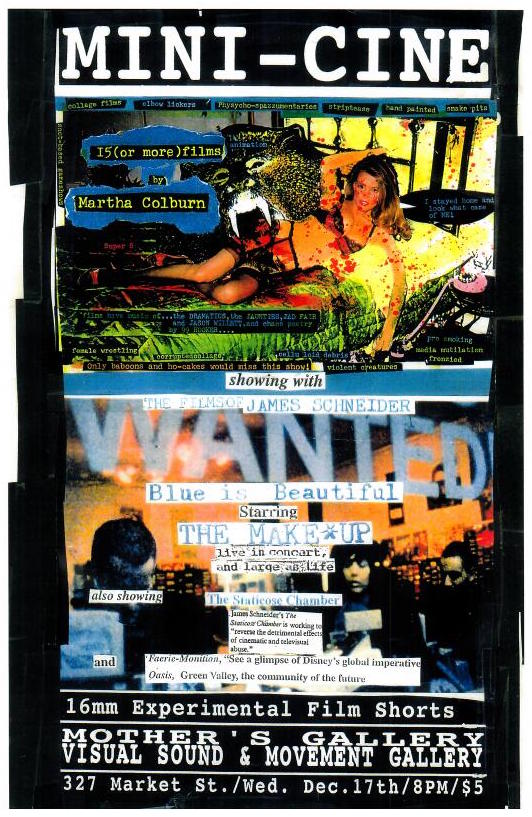 About this screening.....
Martha Colburn & James Schneider, filmmakers from Baltimore, MD and Washington, DC are criss-crossing the country touring a whole slew of their films.  They stop in Shreveport for a screening at 327 Market Street on the evening of Wed. Dec. 17th.
As sometimes said, opposites attract.  Colburn's, frantic spasms of creativity, hole punched, hand painted and scratched frames, movies within movies, animated apocalyptic celluloid explosions are matched with Schneider's, subtle, surreal, impressionistic, atmospheric, body of films with sensual soundtracks and lyrical imagery.
Wow! The common thread, possibly their music background.  Colburn, a member of the Baltimore duo group, the Dramatics (she's designed over 4,000 individual collaged record covers for her band) has, most recently, been touring in Europe showing her films and playing drums for the band X-Ray Eyes...
Schneider, a photographer evolved to filmmaker, has played in several Washington, DC based bands and compliments his work with original band soundtracks.  In his films one quickly realizes image and sound walk on equal ground.  In this program's, Blue is Beautiful, Schneider worked with the DC band, The Makeups, combining documentary, narrative and experimental genres to create a burst of rich impression...