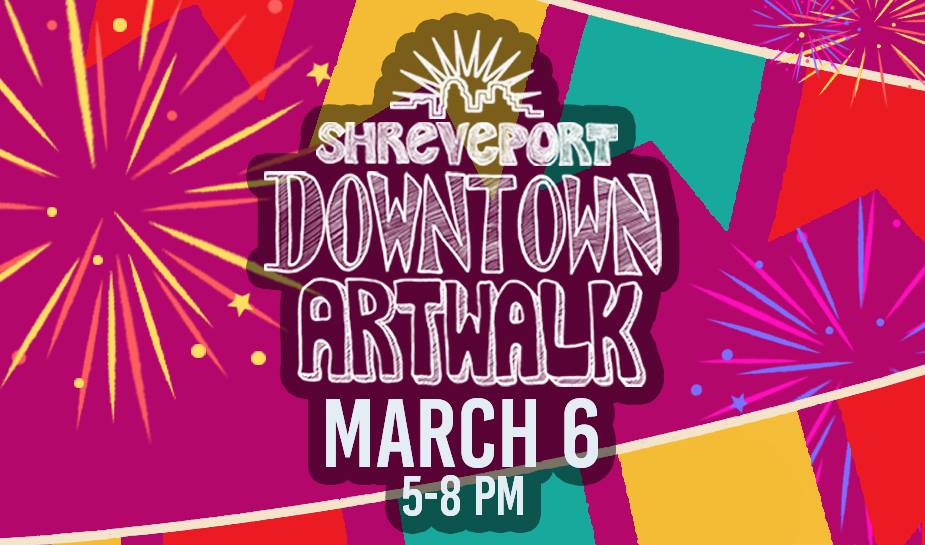 The First Wednesday March Downtown Artwalk features the beautiful Asian Gardens, Minicine?, Central ARTSTATION, Weekend Thrifter, the Fairmont lobby, & the Korner Lounge.
Start at the ASIAN GARDENS, 800 Texas Avenue:
5:30-6:00- Live violin music by Daniel Wheeler
6:30-6:45- Filipino Cultural Dance Performance.

Artists at Asian Garden: Robert E Trudeau, Tobby Smith, Adam King, Sherry Tamburo. Dine in the garden with food from: Thai and Japanese Restaurant, Hot Dawg Hut and treats by Sweetport! In addition,
Isabelle De Joya Vea will have paintings and pottery for purchase.

CENTRAL ARTSTATION, 801 Crockett Street, will host the Collectible Artists Exhibition and Critics Panel. You'll be able to make like a collector and chat with artists:
Bruce Allen, John Daniel, Jerry Davenport, Rodrecas Davis, Brandie Ferguson, Eric Francis, Dorothy Kristin Hanna, Mary Virginia Hill, Neil Johnson, Kevin Langley, Janet Maines, Ben Moss, Paige Powell, Tama Ripps Nathan, Andronicus Scott, Maria Schmeltz, Whitney Tates, Star Williams, Poetic X & Kathryn Usher.
HISTORY IN 5 & SKETCH THE CITY-in the CAS 'Engine Room.' Starting at 6:00 p.m., learn about the history of Mugginsville and the huge 'Bottle Dump' just discovered at the location of the future Shreveport Common Park. Spring Street Museum curator Marty Loschen and Twin Blends Photography L.L.C.'s Mike Mangham and Mark Mangham will join us for this fascinating look at a little piece of downtown Shreveport's remarkable past. As soon as History in 5 is finished, join AIA/LAF Mischa Farrell Architect, LLC for your opportunity to SKETCH THE CITY. Mischa will walk you through how to sketch buildings and details the architectural way, and it's all free!

MINICINE? at 846 Texas Avenue will be open with an exhibit of works by Linda Moss, Ben Moss, Brett Malone and others. At 8 p.m., Minicine? will host an artwalk 'after-party' featuring the remarkable GADABOUT Film Festival. This is a touring program of short films from around the country and globe presented by Eric Ayotte and Charlie Jones, and is absolutely wonderful.

WEEKEND THRIFTER, 719 Common Street, will be open with special deals and a featured artist.

Next door at the FAIRMONT APARTMENTS LOBBY, 717 Common Street, will be artists: Robert Jensen, Kegan Kidd, Joshua Brittian, Hannah Roark, Lisa Cook Marshall, Jade Thornton.

Hannah will be doing caricature drawings while you wait, Jade is offering 5-minute Tarot Card readings.

THE KORNER LOUNGE, 800 Louisiana Avenue, will be hosting an exhibit by Celia Bordelon Carr. This is also the kickoff night for the lounge's Spring Trivia tournament! Korner Lounge is a 21-over venue.

With the exception of The Korner Lounge, all stops are child-friendly and children are encouraged. All street parking is FREE after 5 pm and parking abounds! Consider parking in the lots in front of or behind the First United Methodist Church on Milam, the Municipal Auditorium Parking lot on Texas Avenue at Elvis Presley or all along the 800 block of Texas Avenue. This parking is all free.