The MadCat International Women's Film Festival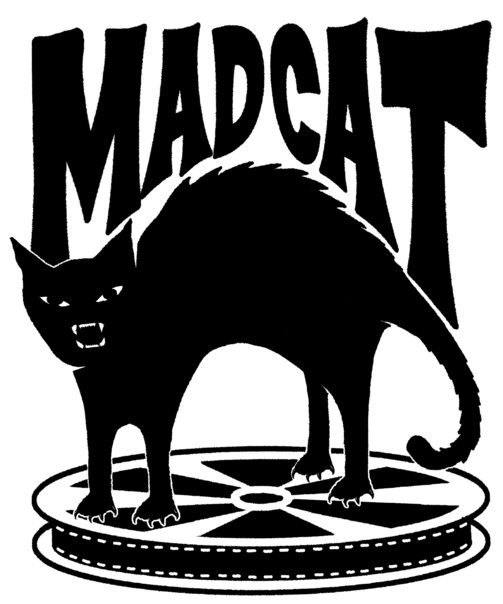 minicine Visiting Filmmaker Series host Ariella Ben-Dov of San Francisco to screen The MadCat International Women's Film Festival. This program, curated from entries from around the country and world, features new works by women filmmakers.
Films in this program will include:
Feminist Creation Myth
Evelyn Zehraoui
2000, Beta SP, 5min, USA
An absurd journey through a world of fields filled with penis' and horny milk shooting cats.
Telly-Vision
Liz Hughes
1999, 16mm, 11 minutes, Australia
A pair of unhappy lovers search for a TV of their dreams.  The nightmare begins when they can't fit it into their apartment.
Replay
Margaret Haslgrove
1998, 16mm, 6min, Australia
Replay is a cinematic etude informed by questions of sexual power and the anticipation of violence through repetition, fragmentation and allusive, grainy images.  The film was created as one continuous optical effect through frame by frame mastering of the film negative.
Introspection
Maya Yonesho
1998, 16mm, 1:30 min, Japan
How does one communicate without a common language?  With an international cast of narrators Yonesho proves "you can do it!"
Grace
Lorelei Pepi
1999, 16mm, 6.5 min, USA
An incandescent body floats through an animated space merging the real and the constructed to portray a surreal world.
The Devil Lives in Hollywood
Amy Lockhart
1999, 16mm, 6min, Canada
An animated film set to a naively sung poem.  Through simple hand drawn animation, the film expresses confusion and disillusion about the way the world is run.
Grandma
Sungyeon Jon
2000, Beta SP, 5 min, Korea
This poignant experimental animation traces Jon's grandmother and her experiences surviving World War II when Japan occupied Korea.  Language and culture clash as the protagonist attempts to reconcile her new language and name.
Just For You Girls
M.M. Serra
1997, 16mm, 1 min, USA
The title speaks for itself...
Tumbleweed Town
Samara Halperin
1999, 16mm, 7min, USA
Join Todd, the Tonka Cowboy on his hitch hicking adventures through Tumbleweed Town where gay cowpokes roam the Texas plains looking for love.
Beyond Voluntary Control
Cathy Cook
2000, 16mm, 30 min, USA
Beyond Voluntary Control is a visually lush film that explores the obsessions, phobias, and diseases that constrict personal and physical freedom.  These ideas are communicated through a surreal montage of found and constructed images.
The Last, The Rest
Johanna Dery
1999, 16mm 5min, USA
Using wood cut animation and live action, The Last, The Rest tells the visually compelling and eerie story of a wingless bird.
 
Doors open at 7:00PM for art by Michael Moore, The Double Barrel Project, The Girly-Girl & Manly-Man Art Show…
About the Double Barrel Installation Project
Prospect by Adam Harrington
Bride by Dusty Emerson
Tossa de Marr by Eric Dean
Cunt and Prick Chairs by Lila Stone and Rachael Martin (respectively)
Shieva by Joni Dickson
Diamonelle Altar by Diamonelle
Lighted Bedroom by Allison Dickson
Dinner by Euphrates and Lapin
Films roll at 8:30PM…