LOUISIANA STORY: THE REVERSE ANGLE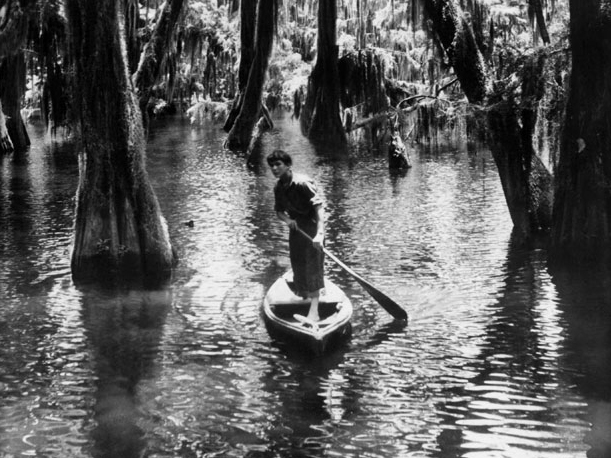 Sixty years after the release of the controversial movie Louisiana Story by Robert Flaherty, Louisiana Public Broadcasting has created a new documentary Louisiana Story: The Reverse Angle that explores the legacy of the original film.
Acclaimed as 'the father of documentary filmmaking' for his work on Nanook of the North, Flaherty's Louisiana Story was his final film. It was film's first look at one of the most distinctive American subcultures, the Acadians (Cajuns) of Louisiana, as well as an artistic triumph. The importance of this documentary was immediately appreciated in its day: along with an Academy Award nomination for Best Writing , Louisiana Story won the Venice Film Festival's International Prize for its lyrical beauty, and a 1949 Pulitzer Prize for music. In 1994, Louisiana Story was declared 'culturally significant' by the Library of Congress, and it was among the first films selected for preservation in the National Film Registry.
This program brings together the surviving key participants of the original 1940's movie and allows them to comment on this controversial film, including Richard Leacock, legendary cinematographer and associate producer of Louisiana Story, and J.C. Boudreaux, once the emblematic Cajun boy who personified Flaherty's optimistic vision. Reverse Angle features diverse commentary from native folklorists, artists, filmmakers, and historians who have both studied and shared in the legacy of Louisiana Story.
Louisiana Story: The Reverse Angle was directed, produced and edited by: LPB's Tika Laudun (Louisiana: A History). It was written and co-produced by C.E. Richard and narrated by Grammy-winner Michael Doucet. The original music for the documentary was composed and performed by Darol Anger. Gary Allen did the post production editing for the project which was photographed by: Keith Crews and Rex Fortenberry. Clay Fourrier was Executive Producer for the project.
This film is funded in part under a grant from the Louisiana Endowment for the Humanities, a state affiliate of the National Endowment for the Humanities and the Foundation for Excellence in Louisiana Public Broadcasting. For more information, www.lpb.org.
MARCH 5
This premier is on LPB @ 7PM
Followed by the original @ 7:40 PM