LOST AND FOUND: The Films of Jay Rosenblatt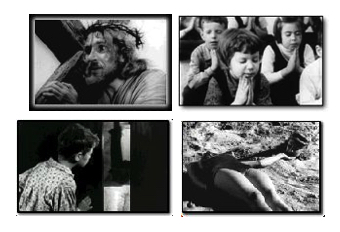 Jay Rosenblatt has been making films since 1980. He is a recent recipient of a Guggenheim Fellowship and a Rockefeller Fellowship. His films have won many awards and have screened throughout the world. These films explore our emotional and psychological cores. They are personal in their content yet universal in their appeal.
A recent film, Nine Lives (The Eternal Moment of Now) was screened at Sundance and won the Best Short Short Award at the Aspen Shortsfest. King of the Jews, was also screened at Sundance and recently won the Grand Prize at the USA Film Festival. Human Remains won an award at the Sundance Film Festival and has thus far gone on to win 26 awards.
The Smell of Burning Ants won Grand Prize at the 1995 Hamburg International Short Film Festival and went on to win 22 additional awards. It has shown at the Locarno International Film Festival, Sundance Film Festival, Tampere Film Festival and the London Film Festival among others. Short Of Breath has been shown at the Rotterdam Film Festival, Sundance and New Directors/New Films. Jay has screened these films for one-week theatrical runs at the Film Forum in New York and at theaters in San Francisco, Chicago, Seattle and Boston.
Jay is originally from New York and has lived in San Francisco for many years. He has been a film and video production instructor since 1989 at various film schools in the Bay Area, including Stanford University, S.F. State University, S.F. Art Institute and the College of San Mateo. He has a Master's Degree in Counseling Psychology and, in a former life, worked as a therapist.
Short of Breath (1990) 10 min.
A woman is reduced to tears.  She bends over backwards trying to be a good wife and mother.  Her head is cut off from her heart.  A doctor picks her brain.  A boy inherits his mother's depression.  Short of Breath is a haunting, emotional collage about birth, death, sex and suicide.  It's like a punch in the stomach.
Prayer (2002) 3 min.
Faith and Fear, Duck and Cover....
Nine Lives (The Eternal Moment of Now) (2001) 1 min.
A house cat dreams of her past lives.
Worm (2001) 2 min. (co-directed with Caveh Zahedi)
A true story of an inexplicable childhood event.
King of the Jews (2000) 18 min.
A film about fear and transcendence.  "It explores my relationship to Jesus Christ as a Jewish boy growing up in Brooklyn.  At the same time. it examines the roots of Christian anti-semitism.  As a child, I was terrified of Jesus."
RESTRICTED (1999) 1 min.
This is America.  Do it.
Human Remains (1998) 30 min.
A haunting documentary which illustrates the banality of evil by creating intimate portraits of five of the last century's most reviled dictators.  The film unveils the personal lives of Adolf Hitler, Benito Mussolini, Joseph Stalin, Francisco Franco and Mao Tse Tung. Sundace Award Winner
The Smell of Burning Ants (1994) 21 min.
A film about gender, male socialization and boyhood cruelty.  A haunting documentary on the pains of growing up male.  It explores the inner and outer cruelties that boys perpetrate and endure.  The film raises gender issues and provokes the viewer to reflect on how society can deprive boys of wholeness.
To learn more about the films of Jay Rosenblatt go to: www.jayrosenblattfilms.com
minicine? / Friday FEBRUARY 21 / 824 Texas Avenue / 9PM / $5