Liminal Lumen: A Film Performance by Luis Recoder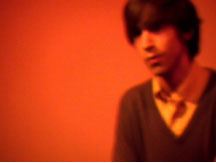 minicine? host film artist Luis Recoder, San Francisco, in a live 16mm film performance in which he uses multiple film projectors played like instruments to create visual and aural compositions.
"Working without a camera, Recoder fogs the film in a variety of ways, producing subtly shifting light patterns whose soft edges subvert the standard geometries of the most abstract imagery. With their slow shifts and absence of overt rhythmic organization, these pieces invite a focused response to pure color in a manner that calls to mind John Cage's proposed definition of art: "paying attention". Whitney Museum curator Chrissie Iles is correct in comparing Recoder's films to the work of light sculptor James Turrell: both artists use light to explore the boundaries between the palpable and the insubstantial" –Fred Camper, Chicago Reader
Luis Recoder's work screened this year at the Whitney Biennial.
AFTER HOURS: Rise, Rise, Rise Tour 2003 w/ Tyondai Braxton and Parts&Labor
minicine? / Wednesday NOVEMBER 19 / 824 Texas Ave. / 8PM / $5