Known Mass No. 3, "St. Maurice" (2019) - Shreveport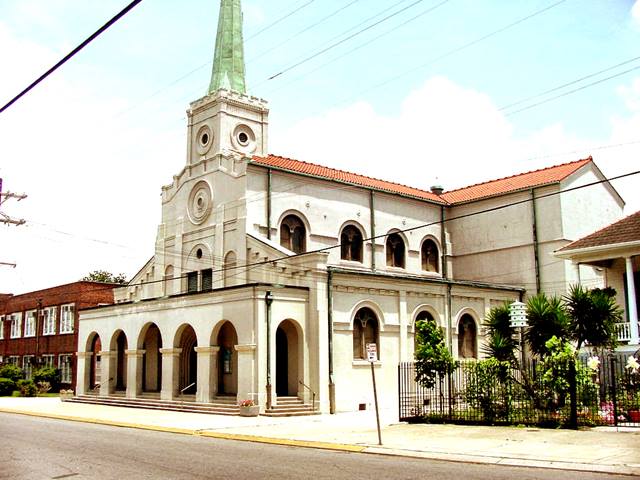 TICKETS AT DOOR, $20, FIRST COME FIRST SERVED. 7:15pm doors, 7:40pm show, no late entry.

About "St. Maurice": This performance is a consideration – and re-creation – of St. Maurice Church in the Lower Ninth Ward, which was the spiritual home and community hub for director Ann Glaviano's family in Arabi, Louisiana. After Katrina, the Archdiocese of New Orleans determined that the St. Maurice Church community was not worth the cost of repairing the church building. The 151-year-old building had, of course, been constructed and maintained through the efforts and funds of the parishioners – including a $2.1 million capital campaign completed the year before the storm. The Archdiocese shuttered and sold the church.

In May 2019, six women will reconstruct St. Maurice Church – marking, occupying, and activating, with their bodies and their memories, key sites of physical objects and personal narratives from the church. Dancers include Kylie Arceneaux, Virginia Byron, Katya Chizayeva, Ann Glaviano (director), and Catherine Nelson. The audience is invited to tour the church while musician and New Orleans native Melissa Guion (MJ Guider) performs an experimental Mass in Latin. When the dance is over, the church will disappear.

About Known Mass: Known Mass, established in 2013, is an ongoing collaboration between New Orleans dancers and artists in other disciplines, aesthetically and ethically motivated by devised-theatre and DIY (do-it-yourself) performance traditions. Director Ann Glaviano recruits professional dancers, the ultra-classically trained and the twenty-first-century contemporary weirdos, to perform alongside Ultimate Frisbee athletes and roller-derby bruisers; she invites musicians who are typically more oriented to the rock-club scene to create lush noisescapes for the dancers to inhabit. The resulting pieces tend to be preoccupied with community – how it's built and how it's dismantled – and foreground the fine line between the banal and the absurd, playing out with both humor and poignancy what the writer and dance-maker Deborah Hay calls "the full, the sensuous, and the completely unremarkable."

May 17-18 in Shreveport. Venue information and more: kck.st/2W36QH0

A community class (no dance experience required) will be offered, led by director Ann Glaviano, with a behind-the-scenes tour of the venue, background on the project, and the opportunity to learn a part of the show. In Shreveport May 18.