Inside Out ***Revised Program for May Day, May 1st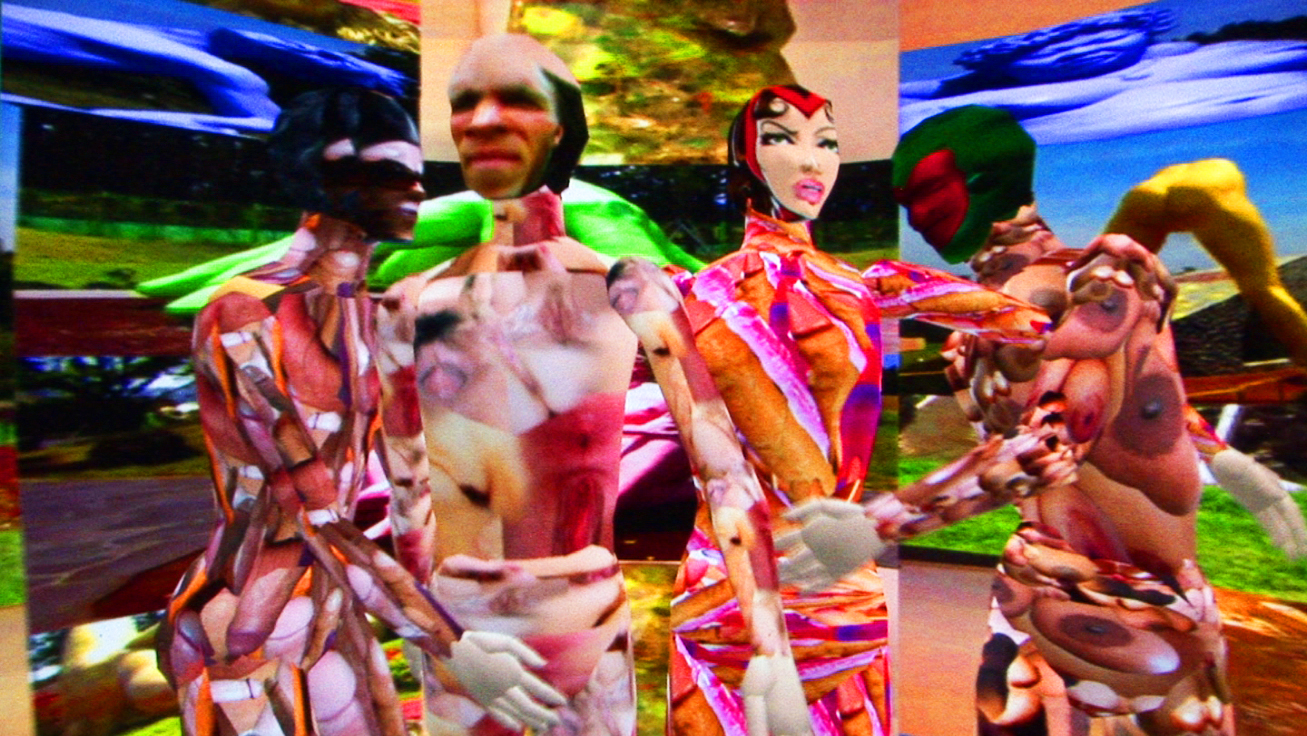 Inside Out, A special program curated to accompany The LOVE-HATE Show featuring the collaborative videos of Darrin Martin and Torsten Zenas Burns …Presented by Darrin Martin!
Torsten Zenas Burns and Darrin Martin began their collaborations in the video and sculpture programs at the School of Art and Design at Alfred University, where they both received their BFAs, 1990 and 1992 respectively. Burns was born in 1968 and received his MFA in video and performance from the San Francisco Art Institute in 1993. Martin was born in 1969 and received an MFA in media and sculpture from The University of California, San Diego in 2000. Together, they have based their single channel videotapes, curations and current performance works on their research into diverse Science-fictions including re-imagined educational practices, cryptozoological musical productions, and trans-human sexuality re-constructions. They have jointly participated in residency's at Eyebeam, and The Experimental Television Center in New York State.
Selected videotapes are distributed by Vtape, (Canada); Recontres Internationale, (France); and Video Data Bank, (USA). Videotapes have screened at venues including The Museum of Art and Design (NYC), Scanners: The New York Video Festival, The New York Underground Film & video Festival, The Chicago Underground Film & video Festival, Cinematexas, Pacific Film Archive (CA), Aurora Picture Show (TX), Palm Beach Institute of Contemporary Art (FL), Monkeytown(Brooklyn,NY), Madrid Museum of Contemporary Art (Spain), Recontres Internationale, (Paris/Berlin), Oberhausen Short Film and Video Festival(Germany), The 4th international video festival at Art Space Bandee (South Korea), They most recently presented their curation Apportmanteau at the Filmwinter festival for expanded media (Stuttgart,Germany).

Volcanica, 2005, 9:30 minutes
Ever want to be your own volcano? Or worship at a cave of discovery, only to find yourself in deeper than you expected, with no way out other than love, lava, and a lot of mutual understanding? This juicy piece will squeeze the best out of you and leave you changed for life. Wego Krieder, Studio 27, SF
A feel good glimpse into a full-bodied lava canal, horror and hippies transmigrate through a portal that began through a hole in the head and activate a redefined eruption.
The Abominable Freedom, 41 minutes, 2006
Originally shot video and appropriated film is woven together to create a musical celebration of the flesh. An egg from the missing link holds a skeleton key to our educational future. On a parallel world, life coaches made of bone & fur activate televisual coursework including circular zooming studies, spectral-mating, and etheric birthing techniques. The spirit of Manifest Destiny eludes its colonial past to refuge deep within our pagan libidinal nature.
What If?, 2009, 11 minutes
What If? is one edition of a larger role-playing workshop where participants were asked to reenact a fictional polyamorous romance. The performers enact date rituals through various pairings of the relationship which ultimately leads to a group wedding. The characters are based upon two obscure Marvel superheroes and two internationally renowned art personalities. The happy foursome are Stelarc, an artist whose cybernetic mission in life is to render the body obsolete; Orlan, an artist whose actual redefinition of her own body via plastic surgery confronts representations of woman throughout art history; the Scarlet Witch, a mutant superhero who has unlimited powers over probability, and the Vision, a "synthezoid" whose mechanically fabricated body contains a human soul. What If? unfolds the entangled story that brought this romantic foursome together spanning the gulf between genders and representations; the body and technology. Originally mastered in HD video.
The Love-Hate Show, curated by Conchita Iglesias McElwee, will feature works by Shreveport artists, Sara Hebert, Chris Jay, Conchita McElwee, Michael Moore, Tara Streetman, Robert Rodgers, Shane Thompson, Micah Harold, Brandon Jenkins, Courtney Harold, Shannon Palmer, Chad O' Kenievel, Chris Stripling, Jen Wasson, Sizer Yeager, John Bentrup, Aubre Bauer, Venus Sheets, Mallori Brandon, Megan Cardenes, Kandi Kane, Jamie Anderson, Shawna Atkins, Mimi and Donnie Webb, Bregon Webb, Alison Wonderland, Jeremy Hayes, BJ Wheeles, Kathryn Usher, Dylan TIllman, Chris Beale, Amy Lynn Scott + more…
Capping off the evening will be a special musical performance by:
The Peekers and Power Pellut…
FRIDAY May 1, May Day…
minicine? swampland
846 Texas Avenue
8PM / $5