Independent Exposure w/ Joel S. Bachar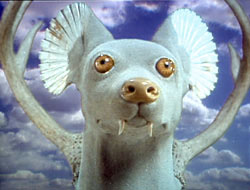 minicine Visiting Filmmaker Series host Joel S. Bachar of Blackchair Productions / Microcinema, Inc. to screen Best of Independent Exposure, a plethora of works from Seattle's premiere microcinema for independent and experimental short form video, film and digital media. Since 1996 Independent Exposure has screened over 500 works by media artists from 100 cities in 40 states and 15 countries. Bachar also operates Microcinema, Inc. which promotes, exhibits and distributes artists and their works through the offline AND online International Microcinema Network, where he has presented Independent Exposure hundreds of times in 30 countries. This is Bachar's first visit to Mini-Cine!
Films in this program will include:
Modi "Pump with a Chump" 3:00 USA Tattooed tough guy Henry Rollins gives a wimpy guy a workout lesson.
Mark O'Connell "Boy Runs to Window" 3:00 USA Digital Video done with Quick Time.
Jason Walker "Deadly Squirrel" 4:30 AUSTRALIA A tale of a hillbilly who's psychotic hatred of rodents is tested by coh-abitation.
Dave Johnston "Pictures in Ireland" 6:00 IRELAND The words of Ludwig Wittgenstein underscore images of everyday Ireland.
Sure McNally "Fran's Fantastic Feasts" 4:00 USA A wonderful new cooking show from Seattle's own Sue McNally.
Nicole Koshmann "Fishing for Brad" 6:00 USA A provocative look into human sexuality.
Scott Kravitz "Magic Trick" 2:30 USA Pick a card, any card!
Ellen Ugelstad & Alfonso Alvarez "Flip Film" 1:05 USA An exciting, short trip on a bus in San Francisco as told through an animated photo/flip book.
Jessica Grynberg "Bubble Numb" 7:00 AUSTRALIA Beatrice is so full of sleep that she lives in a state of inertia.
Dylan Marshall Sisson "Object Lesson" 3:00 USA A 3-D animation with music by Seattle's Kyle Hanson.
Corey Rosen "Keep Clear" 2:30 USA Without his glasses, he can see little more than nothing at all.
Tom E. Brown "Rubber Gloves" 6:20 USA Nothing you to need to know about AIDS.
Smellbob Media "Creature-Nites of Ohio" 11:00 USA A look at the secrets and fashions of our most fabulous obsessions: bowling.
Alina Chau Hiu Fan "Kite" 3:00 USA A musically driven, non-narrative animation.
Lisa Shannon "Portrait of Lloyd" 5:00 USA A day-in-the-life documentary following an isolated old man.
Shane Acker "Hangnail" 2:00 USA A man, man's best friend, and a small piece of skin that eventually tears them apart.
Evan Mather "Buena Vista Fight Club (2000)" 2:00 USA The most exciting two minutes of your life will be spent watching this film!
Stefan Gruber "Thought City" 4:30 USA An army of commuters goes about their routine and non-sensical business within an ever-shifting cement block world.
TOTAL RUNNING TIME: 90 minutes
Pre-Screening Exhibition of Student Films rolls @ 7PM…
Screening @ Centenary College Campus, Mickle Hall, Rm. 114… 7PM… Free