Dirges & Sturgeons w/ Astria Suparak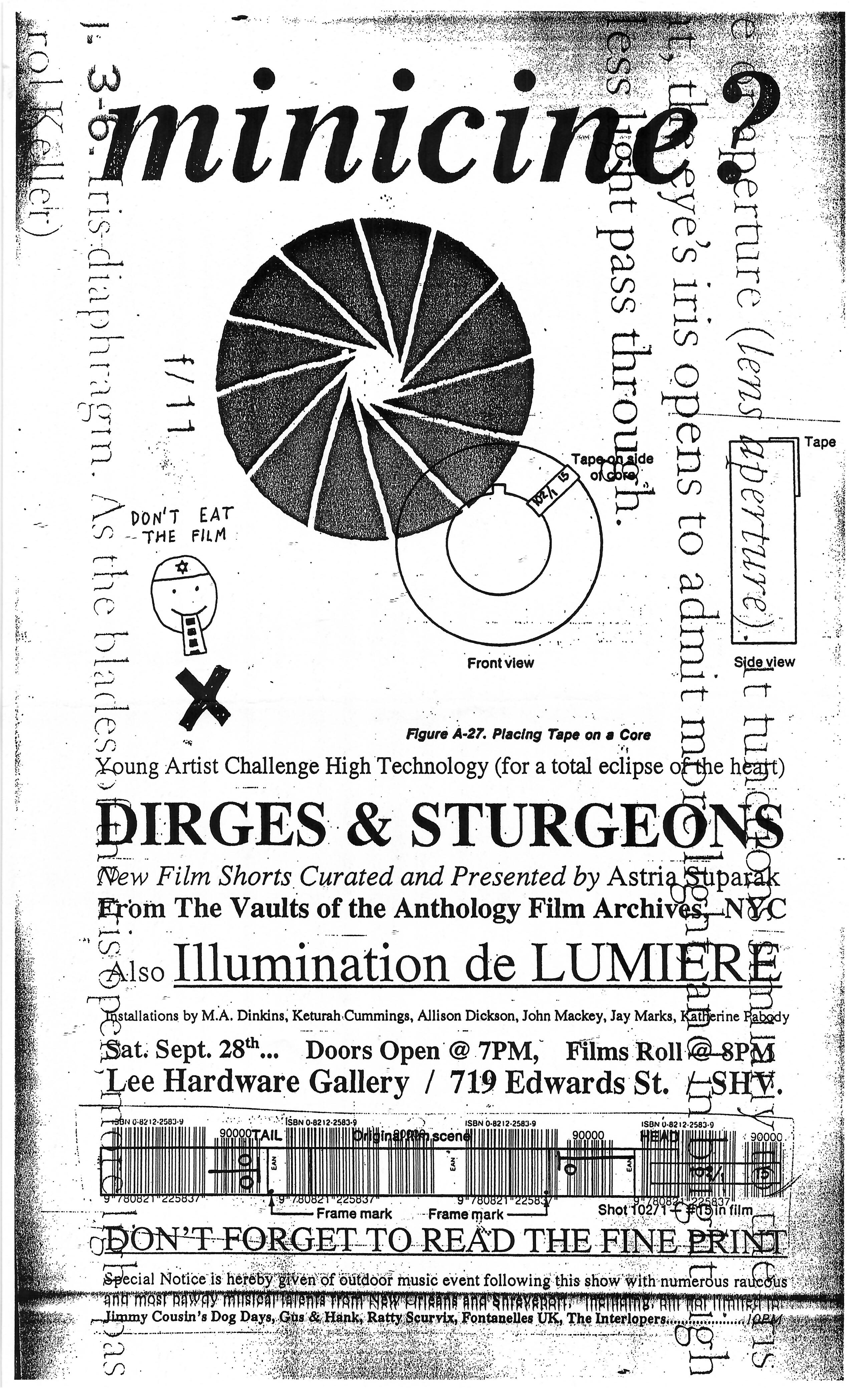 Curated and introduced by Astria Suparak for Anthology Film Archives, NYC.
YACHT: Young Artists Challenge High Technology (for a Total eclipse of the heart). These new videos from America and Europe have tying threads of: the use of high (?) technology or the idea of "future" in a lo fi way, dopplegang/replication, instant nostalgia as the residue of planned obsolescence, states of limbo. High and low (fidelity and culture). Featuring: Bjoern MELHUS (The Magic Glass), Miranda JULY (Getting Stronger Every Day, 2001), Seth PRICE (Industrial Synth, 2002), Jacqueline GOSS (The 100th Undone, 2001), Lawrence ELBERT (Whitney), ANIMAL CHARM (Lightfoot Fever / Slow Gin Soul Stallion), Pierre Yves CLOUIN (The Little Big).
THE VILLAGE VOICE: "Peripatetic curator Astria Suparak has an eye for the strange and ineffable." – A. Taubin
+
THE SAN FRANCISCO BAY GUARDIAN: "Video art starlet Astria Suparak is on a mission to bring the freshest experimental works to the theaters nearest you. The 23-year-old New York curator makes a stop on her national and European tour… with "Dirges and Sturgeons," a program of shorts by young and emerging artists. Playful laments indeed, these new works use lo-fi aesthetics to critique high technology and mass-produced culture." – A. Chadburn
For information about Astria Suparak visit http://www.astriasuparak.com/DSprognotestextonly.htm
Doors open @ 7:00PM… Films roll @ 8PM… Lee Hardware Gallery…
$5 Donation…Refreshments Free…
Illumination de LUMIERE Light Installation by: M.A.Dinkins, Keturah Cummings, Allison Dickson, John Mackey, Jay Marks and Katherine Pabody…
WARNING-FOLLOWING THIS SCREENING The following bands will be playing in the open air of the roofless 842 Texas Avenue… bring marshmellows.. for Gus & Hank, Jimmy Cousins' Dog Days, and from New Orleans, Ratty Scurvix, The Fontanelles UK, and The Interlopers Starts around 10 or 11… $5 Donation