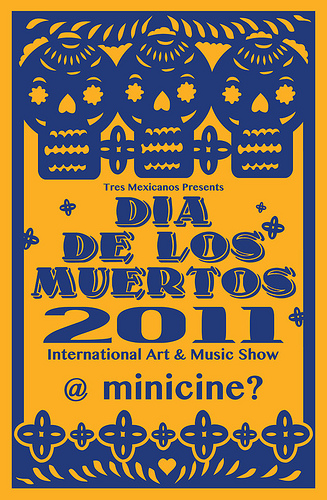 Tres Mexicanos (Conchita, Mallori and Adam) and minicine? are proud to present Dia de los Muertos 2011
What a night of remembrance, festivities and fun we have planned!! So many things going on that it is hard to put it all here! We have over 35 artists from all over the world participating in this show!
We will have the gallery space open as well as our outdoor space. In honor of the spirit of Dia de los Muertos come dressed as your favorite dead person or animal!
We will have a community ofrenda (shrine) to celebrate those we have loved and lost.
We will have interactive art where you can paint a sugar skull wall.
Music provided by:
Twang Darkly (Shreveport, LA)
Kern Courtney / Naked Vinyl (Shreveport, LA)
Skye Carrasco- (Boston, MA)
Taqueria La Michoacana will be selling their awesome tacos and burrittos!
Juan Ramon Soto from Guadalajara, Mexico will be on hand painting and selling his clay art!
minicine? swampland
downtown shreveport
846 Texas Ave.
7 pm, Sat, Oct 29 ($5)