Desolation Center + Chaos 80's DIY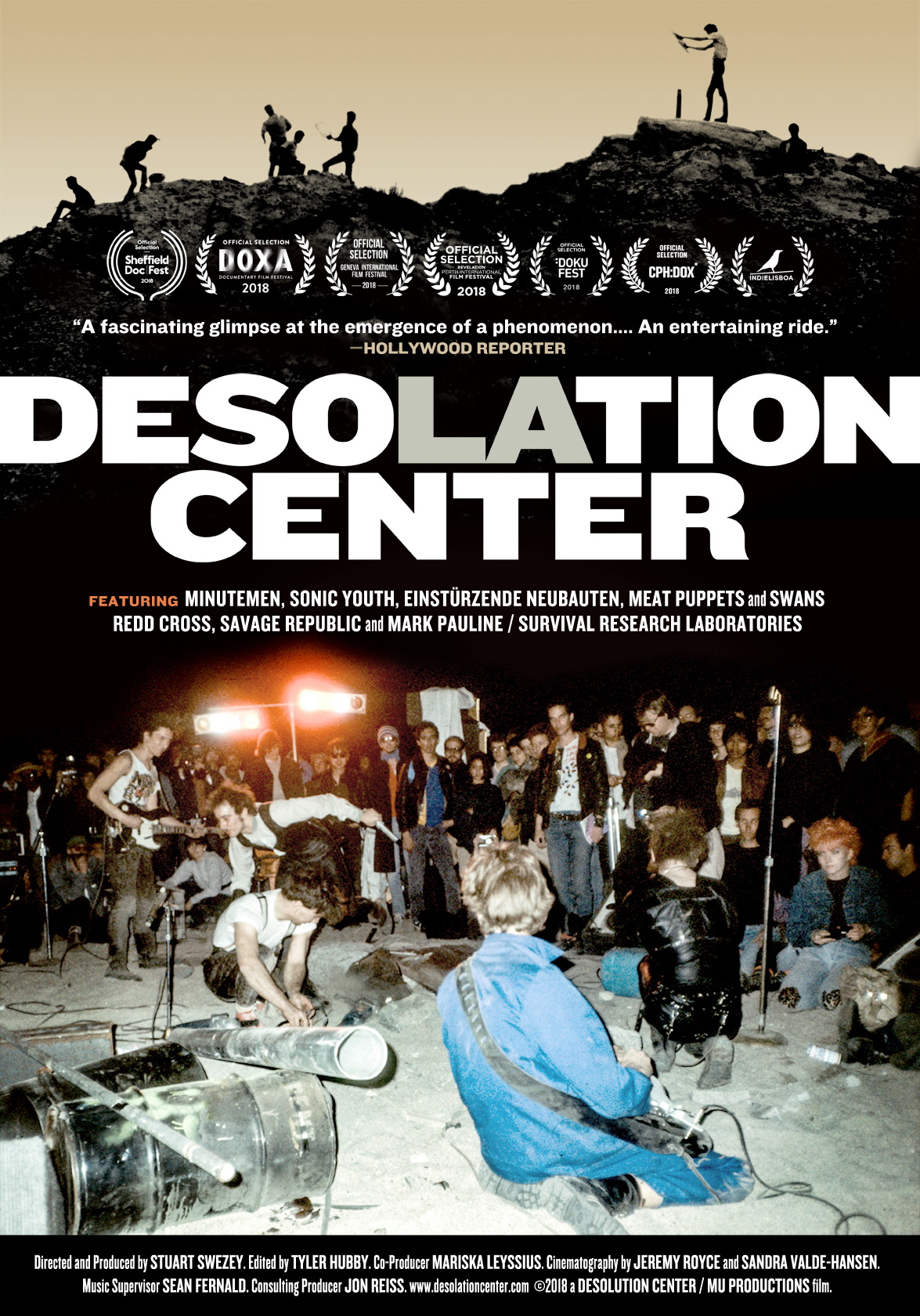 Chaos 80's DIY:
new documentary DESOLATION CENTER by Stuart Swezey + films and photographs by Bill Daniel and David Nelson
About Desolation Center:   "…documenting a time when pushing the boundaries of music, art, and performance felt almost like an unspoken obligation".  
The new documentary DESOLATION CENTER tells the familiar story of persistent DIY sub-cultures striving to find place to explore artistic freedom, that manage to eke out space in time, then fade away as quickly as they appeared.  Such is the story of the legendary 1980s era off-the-grid Desolation Center music events that succeeded to slip under the radar of an over zealous Los Angeles Police Department, by manifesting as secret desert or sea concerts and platforms for new music and peformance. These pioneering events are recognized today as the inspiration for such mega-music/performance events as Burning Man, Lollapalooza, and Coachella.  This film, however, does not dwell on the eventualities, but rather explores the ethos and determination of the DIY Los Angeles punk scene to create ways to have the show, beginning to end, on their own terms.  Directed by Stuart Swezey, who in his early 20's had been the creator and principal organizer behind the Desolation Center events, this film represents a rare inside view into the thinking, pleasures and logistical nightmares behind some truly mythic underground events that went on to help shape todays mainstream music concert experience.  Amongst interviews with participants at the time, bands featured includes: Sonic Youth, Minutemen, Meat Puppets, Swans, Redd Kross, Einstürzende Neubauten, Savage Republic, and performance group Survival Research Laboratories, plus more.  
This screening will include films and photographs by Bill Daniel and David Nelson from the early 80's Deep Ellum, Dallas, art scene inspired by the music and spirit of that turbulent time.  Films screened on VHS, 16mm and Super 8 to include Daniel's 1986 16mm film, Sonic Youth, documenting in true punk fashion Sonic Youth performing in downtown Houston.