Danny Plotnick (in person)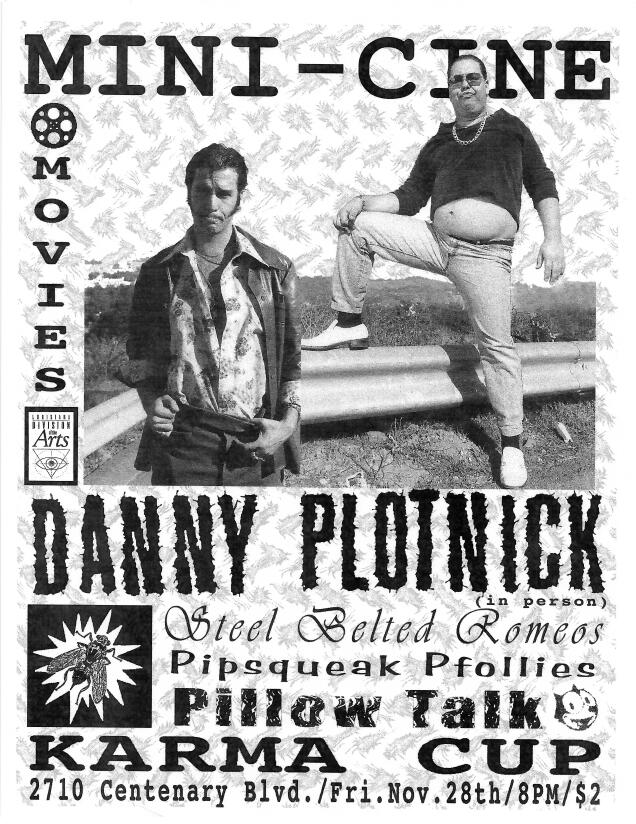 Pipsquek Pfollies, 1994, 24:00 minutes
A twisted tale wherein lots of little kids with metal teeth and bad ideas terrorize an unsuspecting ne'er-do-well.  Painstakingly details all the crap little kids can get away with.  Young at heart and mean in spirit it's a 24 minute joy ride.  Score by Alison Faith Levy
Pillow Talk, 1991, 18:00 minutes
Film by Danny Plotnick/Laura Rosow
Extreme manipulation of filmic time and space combined with an impressionistic lighting scheme help create an urban spaces nightmare.  They're fighting downstairs, they're fucking next door, they're stealing your clothes in the laundry room, and you're no better than the rest.  Loquacious & lugubrious.  Sorta like Jeanne Dielman meets Laverne and Shirley.
Death Sled II: Steal Belted Romeos, 1990, 10:00 minutes
A tale of backwoods blacktop mayhem - Two dim-witted, lead-footed guides from Bayonne, New Jersey bust through stoplight after stoplight in their turbo-charged, bad-assed, jet-black Pontiac Grand Prix until their men machine assault, fists-a-flying, and traffic violations.
Dumbass From Dundas, 1988, 6:40 minutes
In the middle of the Nevada desert, two lunkheads get tossed out of separate cars by their so-called friends.  One guy is wearing a Twisted Sister t-shirt and one is wearing a Kiss t-shirt.  They don't like each other.  They have problems.
Shot on location in Dayton, Nevada.  A relatively enjoyable experience other than the camera breaking down three rolls of film into production forcing us to drive home (400 miles) and come back some other time which was just as pleasurable thanks to the car breaking down, the boom person passing out from the heat, the lead actress getting plastered, the camera breaking down again, and the weird old man at the gas station proudly shining his ancient Michigan State Police badge and saying things like, "Ha! Drug store? Son, you're in Dayton, Nevada; there ain't nothin' in Dayton, Nevada."
Skate Witches, 1986, 3:00 minutes
A gang of female Skate Boarders and their pet rats terrorize all the boy skate boarders in town.
Flip About Flip, 1990, 3:30 minutes
A loving tribute to comic genius Flip Wilson.
Sugarbutts, 1987, 3:30 minutes
A petulant comment on Art Fairs and people's butts.