Creosote and other short videos by Eric Saks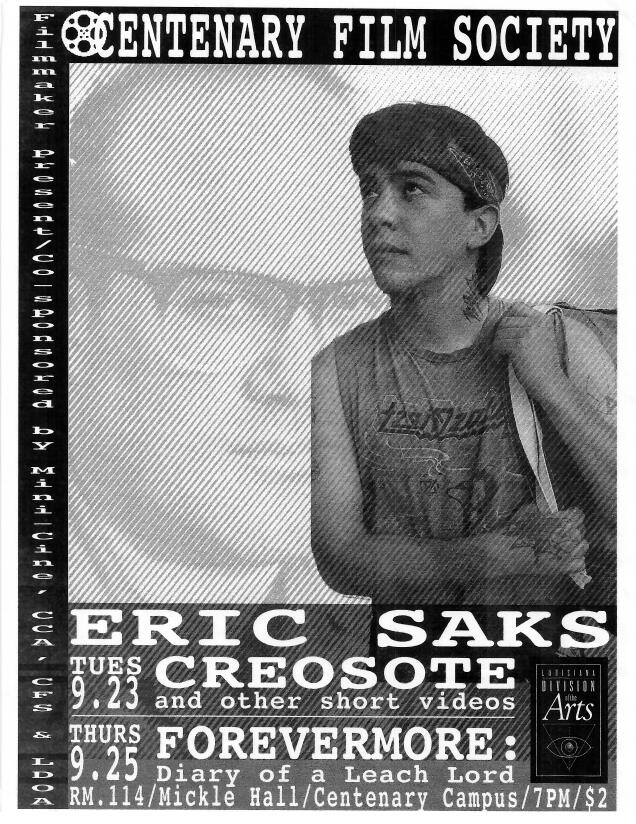 The Centenary Film Society presents independent film, video and multimedia experimental artist, Eric Saks, who will appear in person to screen an hour of his video works at 7PM, Tuesday, September 23rd in Mickle Hall.  Saks' program will include his newest experimental video, "Creosote", his Pixelvision prank, "Don from Lakewood" and others.  Saks will be available to discuss the works following the screening.
On Thursday September 25th at 7PM in Mickle Hall, the Centenary Film Society will screen "Forevermore: Diary of a Leechlord", also by Mr. Saks.  This 16mm featurelength pseudodocumentary is about the life of a fictional Toxic-Waste dumper.  Using unconventional methods, the film conveys a lot of information about the damage that is routinely done to our environment.
This two night program of the Centenary Film Society is co-sponsored by Mini-Cini @ the CCA and the Louisiana Division of the Arts.
For further information contact:
Mini-Cini @ the CCA 424.6399