Courtney Egan: Moving Collages & Other Experiments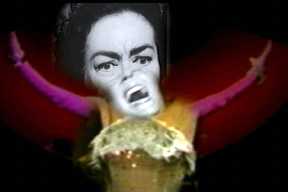 minicine Visiting Filmmaker Series host videographer Courtney Egan of New Orleans to screen Moving Collages & Other Experiments. Driven by an unexamined urge to pick up a video camera and spurred on by blind adoration of Fellini's 8 1/2, Courtney began using video as a process for exploring ideas and emotions in 1992, working mainly with women's perspectives and bodies. Her first video, Thank You Movie, edited on a linear SVHS system in 1993, employs silent movie conventions and vaudeville-style humor to emphasize the facade women place between themselves and the world. Courtney's content has continued to focus on women's relationships with themselves and the world around them, but digital technology has altered the form which images take. Her ecstasy over non-linear technology is evident through her current and ongoing explorations in moving collages of women's bodies, which show multiple points of view on the screen at the same time, creating cubistic-like effects and general confusion.
Also showing: Works from the City that Care Forgot, a program of current New Orleans-based experimental video and film. Pieces range from other-worldly stop motion animations by artist James Dingle to experimental meditations on motherhood by Betsy Weiss. Other artists include Shawn Hall, Andrew Wade Smith and David Sullivan.
Screening @ 824 Texas Avenue… 8PM… $5 Donation