"Chronic" and Other Stories: Films by Jennifer Reeves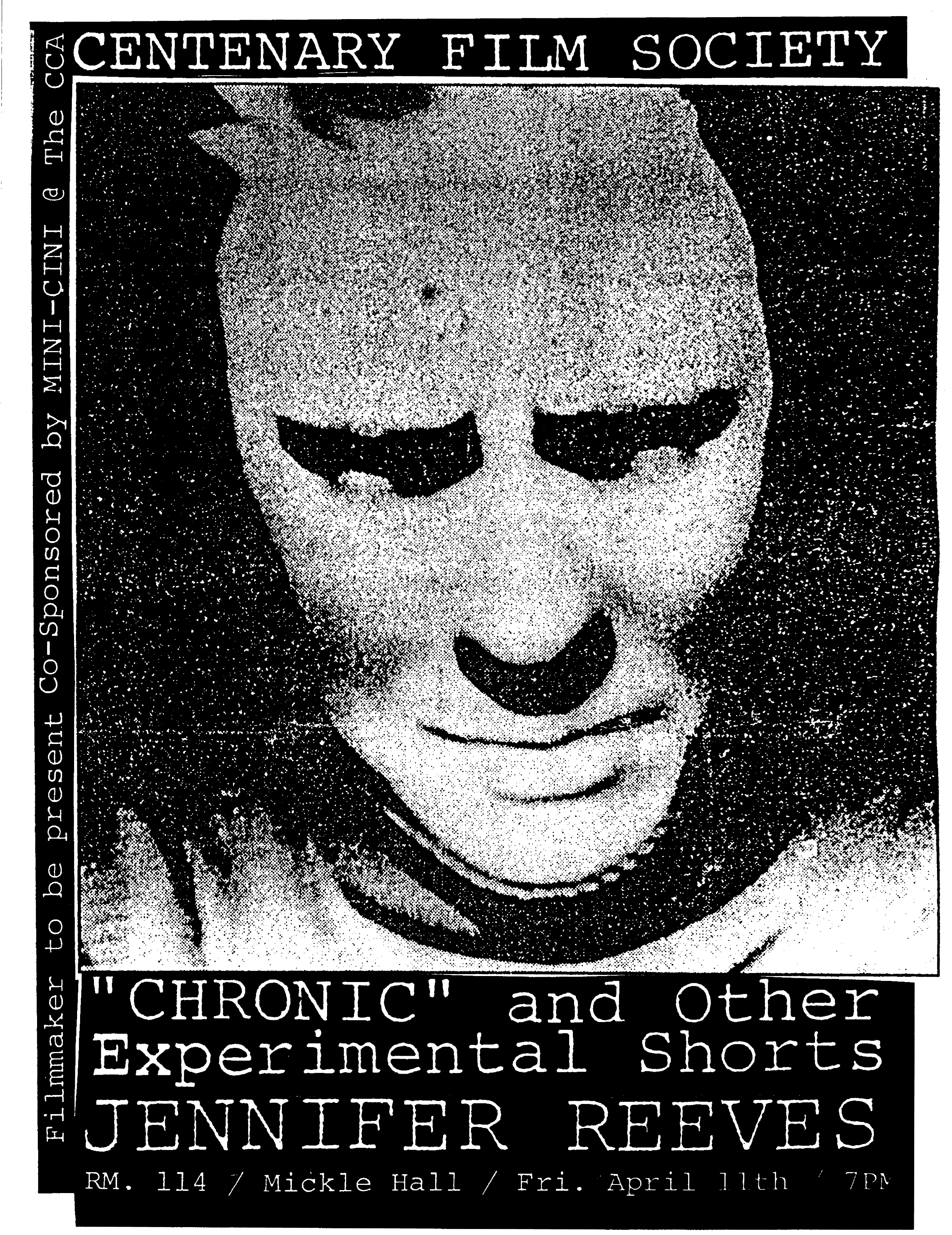 New York filmmaker Jennifer Reeves is an explorer of the visual/aural realm: she collects sounds from the world, musings from her friends, and assorted snippets of our accumulated culture; gathers super-8mm images from the past, speeds up or interrupts pictures of friends, and cracks and shatters the film emulsion with chemicals and powerful potions.  Her experimentation is sometimes coupled with a playfulness, sometimes with a sense of wonder, and often with a curiosity about the particularities of women's experience.  In Monsters in the Closet she delightfully brings together tales of girl gangs, first sexual experiences and other stories from the depths of the closet.  The lush, sensual visual surfaces of Configuration 20 and The Girl's Nervy evoke a primordial first moment in the former, a toe-tapping, eye-dazzling rhythm in the latter.  She describes her most recent film, Chronic, as "an experimental narrative exploring the history of a woman who lives with so-called mental illness.  The film probes into the things that might lead to a person's compulsive self-mutilation."
--Kathy Geritz
University Art Museum
Pacific Film Archive
May/June 1996
Elations in Negative (90, b+w, silent, 5min)
A bloody adaptation of a William Carlos Williams poem.
Girls Daydream about Hollywood (92, b+w, sound, 5 min)
"A fragmented psychic landscape where TV clips, bar talk, and rape loom close.  Trying to reconstruct and resolve sexual abuse becomes a complex project of association and recall" Elisabeth Subrin, Visions.
Taste it Nine Times (92, b+w, sound, 6 min)
Nine visually rhythmic film sketches depicting the passions, fetishes and humor of various women characters.
Monsters in the Closet (93, color, sound, 15 min)
Dirty little girl stories, girl gangs, and other tales from the closets of adolescence.
Configuration 20 (94, color, sound, 11 min)
Primordial sounds and organic creatures evoke the moment when life began.
The Girl's Nervy (95, color, sound, 5 min)
A study of the single frame and rhythms that can be read by the eye.  Constructed by cutting, pasting, and painting both clear film and filmed images.
Chronic (96, color/b+w, sound, 38 min)
An experimental narrative exploring the history of a woman who lives with so-called mental illness.  The film probes into the things that might lead to a person's compulsive self-mutilation.

7pm  /  FREE
April 11, 1996
Centenary Film Society
Rm 114, Mickle Hall
Centenary College