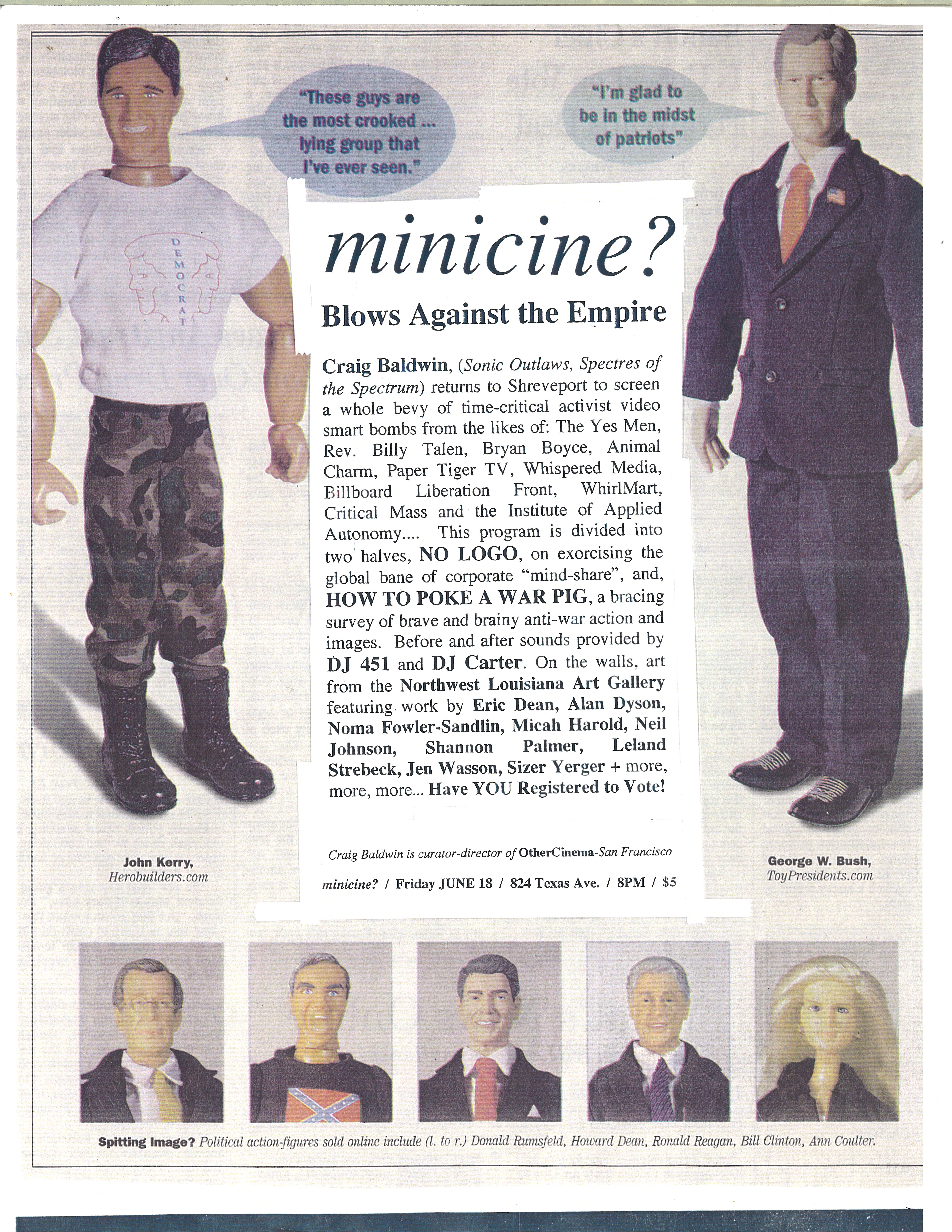 Craig Baldwin returns to Shreveport to screen his election primer, Blows Against the Empire. In the few years since the Seattle WTO protests, and especially now in the weeks leading up to the sure-to-be-contentious streets of NYC for the Republican National Convention, Americans are certainly witnessing a radical surge in types and varieties of protest and street demonstration. Whole new modes of dissent have emerged–more visual, more gestural, more interactive, and much more humor-based than the tame and unimaginative democratic-centralist manifestations of the Eighties. These tactical interventions, call them "political pranks˜, are perhaps the result of a generation's increasingly intense need to break out of the Coast-to-Coast corporate numbing of the popular will, as well as the very healthy growth of the anarchist and direct-action wings of the American Left.
This new breed of activism has been the subject of many recent articles, books, conferences, and even college class offerings, as well as, of course, ambitious interdisciplinary exhibition initiatives from within the fine-art world. This explosion of creativity and dialogue affords a unique opportunity to appreciate the contemporary guerrilla theater against the histories of both agit-prop AND performance art (among many other cultural studies), and so it is that this 2-hour video project rolls into town ˜to both inspire and inaugurate" this Summer Season of Protest.
This program is grouped into two halves–"NO LOGO", on exorcising the global bane of corporate mind-share' and "HOW TO POKE A WAR-PIG", a bracing survey of brave and brainy anti-war actions and images. Among the two-dozen smart-bombs of art' are pieces by the Yes Men, Rev. Billy Talen, Bryan Boyce, Animal Charm, Paper Tiger TV, Whispered Media, Billboard Liberation Front, WhirlMart, Critical Mass, and the Institute of Applied Autonomy.
Mr. Baldwin, director of "Sonic Outlaws" and "Spectres of the Spectrum"–two earlier critiques of corporate hegemony, will be on hand to introduce the work and answer any questions. Local DJ 451 (aka.. Benjamin Brock) and DJ Carter will sweeten the evening with sounds and Nathan Brown (Fort Worth, TX) will make a special guest appearance to "cheer" us all up after the films. And on the walls… will be artwork from the Northwest Louisiana Art Gallery, featuring: Stan Carpenter, John F. Daniel, Eric Dean, Alan Dyson, Noma Fowler-Sandlin, Micah Harold, Michael Harold, Neil Johnson, Shannon Palmer, Derek Sallis, Lisa Smith, Leland Strebeck, Jen Wasson, Sizer Yerger, and others.
minicine? / Friday JUNE 18 / Shreveport, LA / 8PM / FREE