Beyond Baywatch: Six Films by Six Women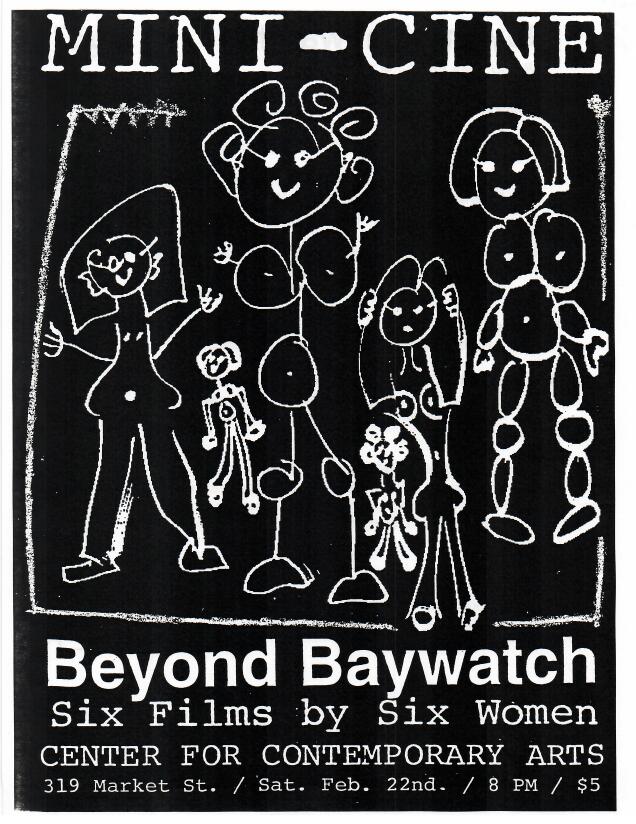 The Idea of North (14min., 16mm, 1995) Rebecca Baron
An experimental documentary about a turn-of-the-century failed attempt to reach the North Pole by balloon.
Stolen Stories (6 min., 16mm transfer to video, 1996) Paula Gauthier
Experiencing a friend's death from AIDS prompts this exploration of personal memory and loss.
Work (4 min., 16mm and S-8 transfer to video, 1995) Melinda Stone
A train jumping adventure that follows Antonio Rubacaba to the Northwest, where he works for 25 years in the lumber mills.
Pass (9 min., 16mm, 1996) Kate Haug
A heavy metal haiku of sex-pop American culture.
Puss! The Booted Cat (13min., 16 mm, 1995) Caroline Koebel
An erotic tale featuring the escapades of mademoiselle Puss, a contemporary heroine who is equal parts tomcat and feline femme fatale.
Tunnel Vision (10min., pixelvision, 1995) Justine Angelis
Five glimpses into or at an internal moment or idea existing in the gray area somewhere between safety and fear.  *The fragmented thoughts appear throughout the hour.