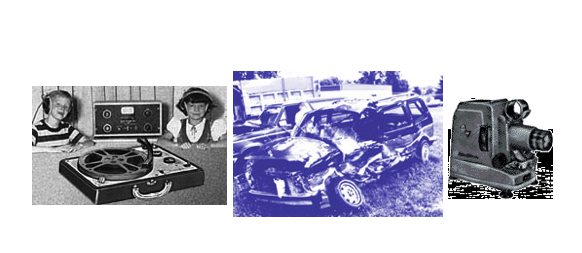 During the day a mild-mannered computer tech support technician, Skip Elsheimer, 35, spends most of time and money collecting, archiving and presenting old 16mm educational films. What started as a hobby almost ten years ago, the collection has grown to almost 12,000 films gathered from school auctions, thrift stores, closets and dumpsters. Skip recently purchased an old boarding house with eight bedrooms – five of which are filled with films. He presents monthly themed film shows in his home base of Raleigh, NC and Durham, NC – shows like "Film a Commie for Mommie" – a collection of films about communism and its threat to the American way of life; or "Anatomy of an Auto Accident" – educational films about car crashes. Recently, he's taken his shows on the road to Boston's Coolidge Cinema and New York's American Museum of the Moving Image, where he did an eight show retrospective. Films from his archive have been released on DVDs – "Social Engineering 101" and "Sex and Drugs" Two more DVDs are due in June – "On the Job" and "Driver's Ed".
More Dates for Kay(1952) Film for girls wanting to get dates
Teeth(1970) American Dental Association gets as hip as it can.
The Lunatic(1972) Not your average VD film. Who is "the lunatic"?
Purely Coincidental(1980s?) A paranoid melodrama about food safety
Parent To Child About Sex(1967) A film about sex education with some truly awkward scenes
The Huntsman(1972) A young kid learns about life while selling old golf balls at a country club.
For more information visit http://www.avgeeks.com
Doors open @ 8PM… 514-516 Texas Street… next to the Hayride…
$5 Donation… ages 18yrs. and up…