2018 Champion of the Arts Award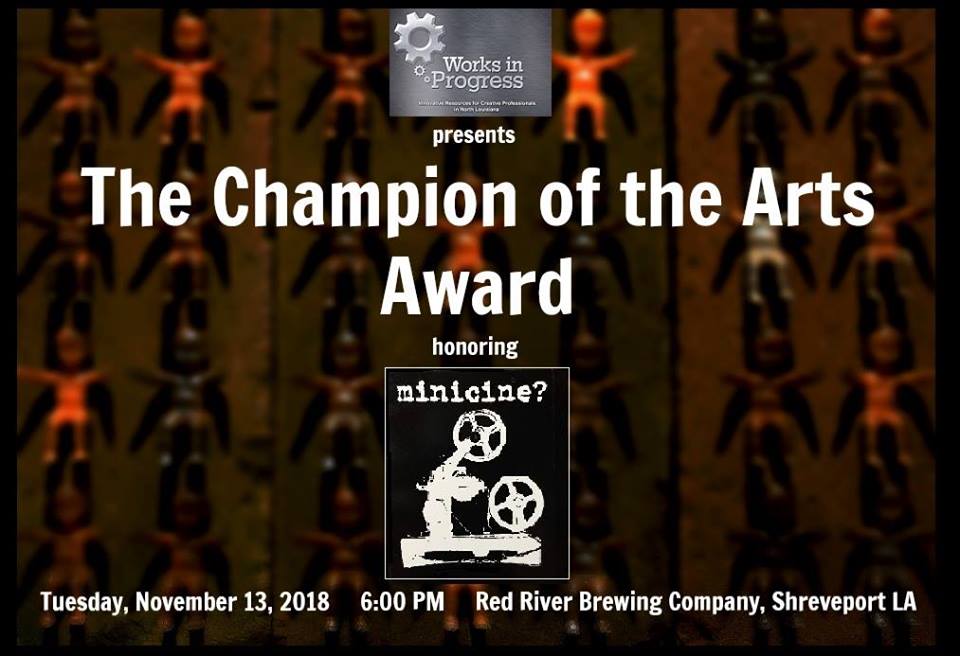 Join us at the inaugural Works In Progress Louisiana Champion of the Arts Award as we honor the Minicine? art collective in Shreveport, Louisiana, for their outstanding and humble service to the North Louisiana arts community for over 20 years.

Minicine? is a "roving, pop-up suitcase, grocery cart, thrift store, hands on," volunteer-run venue for experimental and independent film, video, art, music, dance, food, performance and literature. Minicine? "strives to create an artist/audience interactive environment, and welcomes filmmakers and multimedia artists to present new work." Minicine? also hosts traveling performances, exhibits and film screenings from around the world.

From their first film screening at Karma Cup Coffee in 1995, to their current weekly multidisciplinary events, Minicine? has consistently curated the most innovative arts events in our region.
Minicine? is home to one of the most unique and affordable performance & exhibit venues in North Louisiana. 

Located at 846 Texas Avenue in downtown Shreveport, Minicine? has become a staple of the arts community, hosting up-and-coming artists and established creative professionals side-by-side at every event.

The Champion of the Arts Award was created by the Board of Directors of Works In Progress Louisiana to honor people and organizations who cultivate and support the arts - often quietly and with minimal public recognition - throughout North Louisiana. 

This is the first presentation of the Champion of the Arts award and, in the future, its presentation will be incorporated into WIPLA's popular annual fundraiser event.

Proceeds from the Champion of the Arts Award event ticket sales and sponsorships will be shared equally between Minicine? and Works In Progress Louisiana to support community-based arts projects & events, and provide business development workshops & grants for creative professionals, respectively.

Sponsorships are available!
• The $5-At-The-Door Sponsorship: $50.00
• The Bathtub-Full-of-Soda Sponsorship: $100.00
• The 8mm Projector Sponsorship: $250.00
• The 846 Texas Avenue Sponsorship: $500.00
• The Swampland Sponsorship: $1000.00

All sponsorships are 100% tax-deductible.

Tickets are $10.00, and can be purchased online or at the event.

Food and beverages will be available for purchase during the event at Red River Brewing Company and Fat Calf Boucherie.